News & Events
Ex-Student On Attachment Makes Donation To Alma Mater
Tue, 24 Jun 2014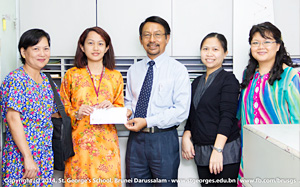 Marilyn Yap Mei Choo was a student of St.George's School from 2008 until 2012. Throughout her years at the school, Marilyn's parents had been very supportive of the school's academic and co-curricular programmes.
Marilyn finished her 'O' Level studies at St. George's in 2012 and went on to join Sekolah Perdagangan (Business School) to take up a course in Business and Administration. She has just completed her Skill Certificate 2 and will proceed to take up her Skill Certificate 3 course on 1 July 2014.
It was indeed welcoming news when Marilyn started her attachment with her alma mater on 1 April 2014. As her attachment position will end on 30 June 2014, her mother, Marieta L. Aquino, has made a monetary donation of $300 to the Student Fund of St. George's School, to show her appreciation for the guidance and help rendered throughout Marilyn's attachment at the school.
St.George's School wish to offer thanks and appreciation to Marilyn Yap and her parents for their continuous support towards the school.