News & Events
SGS Celebrates the 27th Annual Novelty Games and Primary Sports Meet
Tue, 12 Aug 2014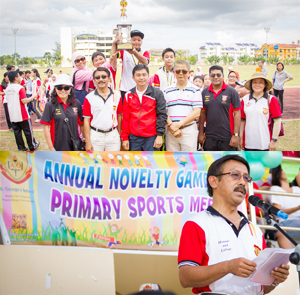 The 27th Annual Novelty Games and Primary Sports Meet 2014 for St.George's School was held at the field of Maktab Duli Pengiran Muda Al-Muhtadee Billah on Sunday, 10th August 2014. The opening ceremony was officiated by the Chief Guest, Yang Mulia Awang Bukit bin Hidup, the Acting Deputy Head of Special Education Unit, Ministry of Education.
The event started off with the marching of all the four houses, followed by the national anthem. The principal, Mr. Janidi Jingan, gave a welcoming speech before the start of the events. According to the principal, the purpose of the Annual Sports Meet was to give awareness to the students and the public that physical activities enhance the health of the students as well as develop the self-esteem, moral values and, the critical thinking and communication skills of an individual.
The event ended with the giving away of prizes to the winners. The Champion for 2014 Primary Sports Meet went to the Yellow House, which also took home the title of Champion House for March Pass.
*Check out this event gallery by click here.