News & Events
Ex-Student Makes Generous Donation to Honour School
Mon, 18 Aug 2014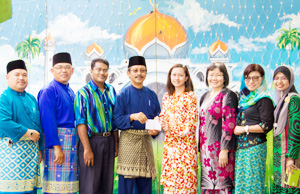 ONCE A ST.GEORGIAN, ALWAYS A ST.GEORGIAN!
This motto holds true for Marilyn Yap Mei Choo, an ex-student of St.George's School, Brunei Darussalam. The school held a Hari Raya Celebration on 16 August 2014, to celebrate the festival together with the Muslim community of the school, as one of its annual events to foster closer ties between teachers, staff and students. In conjunction with this celebration, Marilyn's parents, Mr Yap Pow Sun and Mrs Marieta L Aquino, kindly made a cash donation of $100 to help contribute to this festivity.
Their kind gesture and unfailing support for the school are greatly appreciated.