News & Events
SK Convent, Teluk Intan, Perak Visits St. George's School, BSB
Tue, 16 Sep 2014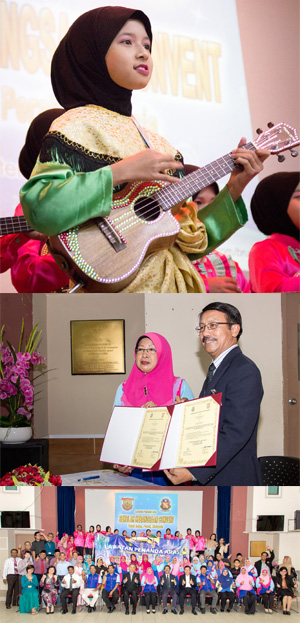 Sekolah Kebangsaan Convent, Teluk Intan, Perak, Malaysia made an educational visit to St.George's School, Bandar Seri Begawan on 15 September 2014 with an entourage of 42 visitors, led by Puan Rohana binti Mohamed Nor (Senior Mistress, Academic), senior masters, teachers, the chairperson and members of the SK Convent Parent Teachers Association, together with students of SK Convent. The visitors were welcomed by the principal of St. George's School, Mr Janidi Jingan, the deputy principal, Mr N.M. Mubarak, heads of sections and departments and other members of the teaching staff.
Also in attendance were Mr Anthony Liew Vun Chiang, Chairman of the Board of Governors and other members of the Board of Governors of St. George's School.
SK Convent is one to the top schools in the Hilir Perak District of Malaysia and has achieved excellent results in the UPSR examination, an equivalent to the local PSR examination. It is an all girls primary school with a population of 375 students. The school has received multiple awards such as the 'Anugerah Baru Guru Besar' from 2010 - 2013, achieving 100% passes in all UPSR subjects and was champion in national hockey, archery and tennis competitions. Its niche area is in hockey and ukulele music. It has been nominated as a High Performance School for the year 2015.
The aims of the visit are to 'bench mark' their achievements and to share their strengths and achievements with other schools. It is also to form a network with other schools outside of Malaysia, such as with schools in Singapore, Brunei and Indonesia.
In his welcoming address, Mr Janidi spoke on the achievements and successes of both schools. He shared with the visiting school the participation of St George's School students in the 10th Final Debating Competition organized by Swinburne University, Sarawak and winning the 'Most Promising Debaters' trophy in a competition that saw the participation of 80 schools throughout Malaysia. The achievements of the primary students in chess competitions at national level and the 3rd placing of the school in the 2013 National Choral Speaking Competition were also shared with the visitors. He hoped that the sharing of practices and experience would help both schools to serve their students better. In his speech, Mr Janidi Jingan noted that with globalization and changes in Communication and Information Technology, there would be, without doubt, a change in the education pattern which not only challenges teachers but also parents and students alike. Hence, parents are compelled to keep up with the times to ensure their children's success in the SPM or STPM examinations in Malaysia and the 'O' and 'A' level examinations in Negara Brunei Darussalam.
With the belief that 'schools have so much to offer each other', St. George's School has consistently welcomed visiting schools from Kelantan, Malaysia, Thailand and to date, Teluk Intan, Perak. Visits by St. George's School to other schools to investigate powerful teaching and learning practices were made to two 'high performance schools' in Sabah in 2013 and an impending visit in the forthcoming third term break will see St. George's School administrators, teachers and staff embark on another educational visit to two other 'high performance' schools in Melaka, namely Methodist Girls Secondary School and SK Convent Infant Jesus (2). These visits would be engaging, personalized, focused and highly productive apart from allowing everyone to gain insights into what other schools feel as important in their quest to achieve excellence in academics and co-curricular activities.
An entertaining performance on the ukulele by the UKEVISTA Group of SK Convent, Teluk Intan was followed by a dance performance by the St. George's School students. The memorable occasion saw the exchange of souvenir and certificate by the principal of St. George's School and the Senior Mistress of SK Convent and the signing of a memorandum of mutual cooperation between the two schools.
*Check out this event gallery by click here.