News & Events
Sekolah Berasrama Penuh (SBP) Integrasi, Bukit Rakit, Kuala Terengganu Visits St. George's School
Sat, 18 Oct 2014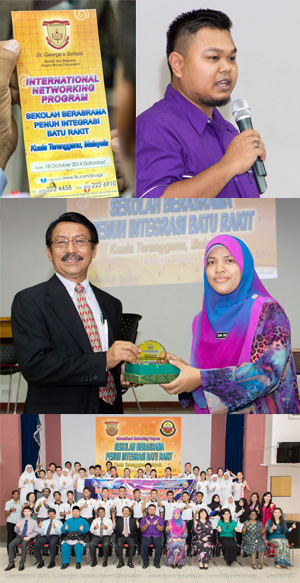 As part of their International Networking Program (ETOS Mathematics and Rugby), SBP Integrasi Bukit Rakit, which was awarded with the High Performing School status in 2012 by the Ministry of Education, Malaysia, paid an educational visit to St. George's School on 18 October 2014. SBP Integrasi, Bukit Rakit, shared two of their school practices with St. George's School, namely the use of the Geometer Sketchpad (GSP) and the playing of SUDOKU in relation to the teaching of the Mathematics subject.
The delegation of 16 students from Kuala Terengganu was led by Encik Mohd Afflaha Solihin Bin Sulaiman and Puan Zura Halina Binti Hussain. In his welcome address, the principal of St. George's School, Mr Janidi Jingan, hoped that St.George's School teachers would gain knowledge on the use of the Geometer sketchpad and would help motivate and spark greater interest in the students towards the learning of mathematics. He also informed that playing Sudoku offers immense mental benefits as the game sharpens one's mind and offers a good brain challenge. It improves a person's thinking skills by developing and enhancing logical and critical thinking skills and helps children solve problems effectively. Mr Janidi also spoke on a study that says Sudoku helps in delaying the effect of ageing by stimulating the brain regularly.
In their reciprocal address, Encik Mohd Afflaha Solihin Bin Sulaiman thanked St.George's School for her hospitality and expressed their keenness in working together with the school to exchange best practices and knowledge.
A SUDOKU Competition was held which saw the participation of 32 students from both schools. Certificates were presented by the visiting school to all participants and to all Gold, Silver and Bronze Plaque winners.
A friendly game of rugby with a neighbor school was next on their itinerary as the delegates bid farewell to St.George's School.
*Check out this event gallery by click here.