News & Events
Dinner Night 2014
Tue, 16 Dec 2014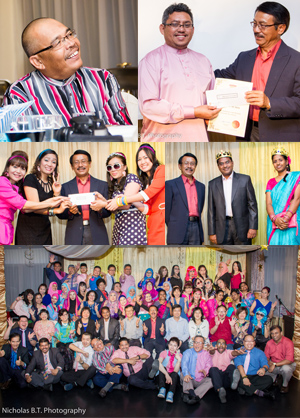 It seems hard to believe. The year started off at a sprint and it seems to have left many of us as teachers still trying to catch our breath. As we looked forward to all the challenges that lay ahead of us, it did appear a little daunting at times - a huge mountain that lay ahead of us to climb. But my, what a wonderful year it has been. A year of challenges met, mountains climbed and summits conquered!
So to celebrate the joy the Gala Dinner night was organized by the staff welfare committee, headed by Mr. Bernard Lim, on 28th November at I-Lotus restaurant. Teachers enjoyed performing dances, songs and catwalks. No students to watch, just the teachers and their time!! The teachers who joined the Kuala Lumpur- Malacca trip were awarded with certificates and gifts of appreciation to those who have worked 10 years and Mr. Selomi was recognized for his efforts greatly rendered to school. Then came the farewell speeches and goodbye videos to Mrs. Sheiela, Mr. Norazaman, Mrs. Nurul Ashiquin and Mr. Mas Akmal. Having been like one big St. George's family, it was not so easy to say good-bye.
The Words of appreciation and advises of our Chairman Mr. Anthony Liew (In absentia, read by Mr. Freddy Ho) and our Principal Mr. Janidi Jingan were encouraging.
The sumptuous food at i-lotus was a true treat. Teachers retired for the night quite undeterred with mixed emotions and small n' big gifts in hand, won in the Lucky draw.