News & Events
Self-Hygiene
Wed, 14 Oct 2020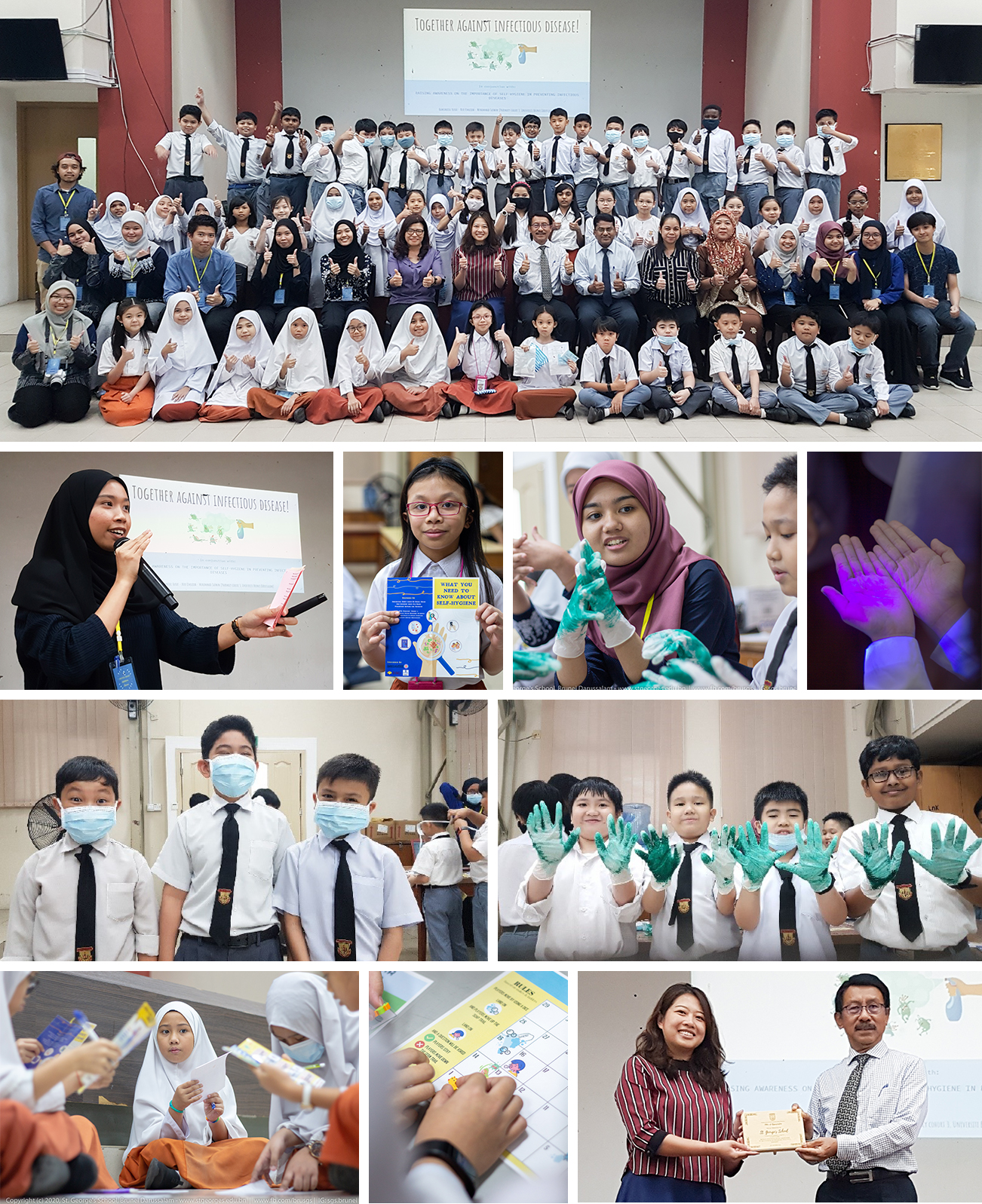 St. George's School students of Year 4 were educated on infectious diseases and how to prevent their spread during a talk given by some Year 3 Pharmacy students of the University of Brunei Darussalam (UBD) on Saturday 10 October 2020. The talk entitled 'Together Against Infectious Diseases' was a part of their campaign to raise awareness on the importance of self-hygiene in preventing infectious diseases.
Present at the event were the Principal of St. George's School Mr. Janidi Jingan, Head of Primary Section Madam Alice Ting, teachers of St. George's School and Year 4 students. Madam Alice Ting gave a warm welcome to Dr Goh Poh Hui, three Year 3 Pharmacy students of UBD and some student volunteers from the said university. The event began with the recitation of the Surah Al-Fatihah, followed by an introduction of the speakers and the programme for the afternoon.
A short presentation was then given by the UBD students, which touched on the spread of infectious diseases, good hand-hygiene, appropriate coughing and sneezing etiquette and proper mask use. Nine volunteers from the Year 4 students were then called onto the stage for an activity whereby each student was given some glow-gel lotion to apply on the hands. UV light was then shone on the hands to check for the presence of bacteria.
Next on the programme was a self-hygiene demonstration. Students were asked to divide themselves into four groups and take turns to visit four stations set up in the hall. Two of the stations explained why wearing a mask is important. The students were also taught the correct way of tying masks on their heads. The other two stations explained to students why it is important to properly wash their hands. After the demonstration, the students were treated to half an hour of mini games which included crosswords, matching games and a version of snakes and ladders called 'Sneeze and Soaps'.
The event ended with Dr Goh Poh Hui presenting a token of appreciation to Mr.Janidi Jingan, followed by a group photo with Mr Janidi Jingan, Mr NM Mubarak, Mdm Alice Ting, Dr Goh, the Year 3 Pharmacy students, UBD student volunteers and the year 4 students of St.George's School.
*Check out this media gallery by click here