News & Events
Education Talk by AIDS Council
Mon, 9 Aug 2021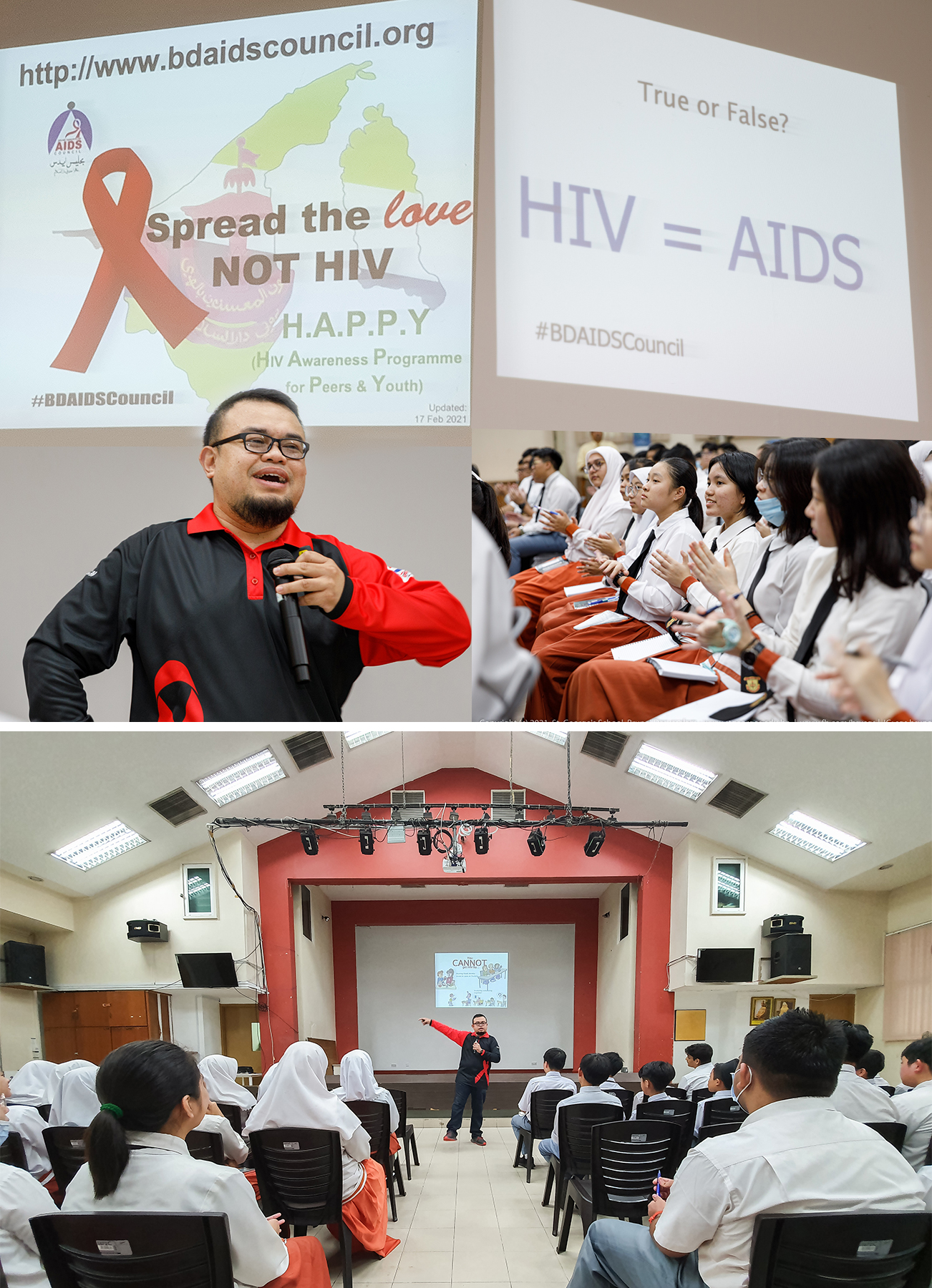 On 29th May 2021, our school welcomed a visit by the Brunei Darussalam AIDS Council. They were accompanied by Mr Iswandy Ahmad, a member of Brunei's Legislative Council. All the students of Year 9 were presented with a talk by Mr. lswandy on awareness about HIV (human immunodeficiency virus) and STDs ( Sexually Transmitted Diseases). We came to know that STDs and HIV are not the same. HIV or AIDS is a form of STD. HIV is a virus that attacks the body's immune system. If HIV is not treated, it can lead to AIDS (acquired immunodeficiency syndrome). STD can be a variety of diseases and viruses. It is a statistical fact that if you have one or more STDs, then you are also more likely to possibly get HIV.
We also learned that in our country, Brunei Darussalam, about 34% of HIV cases range from 15-20 years old (youth) and the rest from 25-34 years old (young adults). And about 96% of those cases are men. Apart from that we were briefed on various ways HIV or any form of STDs which can be transmitted from one person to another. Both STDs and HIV are mostly transmitted to another person by some sort of sexual contamination. These diseases can also be transmitted by sharing unsterilized needles, sharing of HIV tainted blood through blood transfusion as well as breastfeeding from a mother to the child.
HIV itself doesn't really show symptoms at first and might take around 5-15 years to show prominent symptoms. The only way to know if a person has been infected by the virus is to have a HIV test from the nearest clinic as soon as possible. Even though, the HIV disease doesn't have any cure but it still can be prevented by taking some immediate safety measures such as practicing safe sex and not be promiscuous. However, other STDs such as Gonorrhea, Chlamydia and Syphilis do show symptoms such as rashes and sores around the genitals, pus discharge and irritation in and around the genitals.
Overall, we learned a lot and were encouraged to endeavour for the prevention of diseases in our country. A lot of quizzes were conducted by Mr.Iswandy and his team members to test our knowledge on what we learned. We were also informed that one should seek immediate treatment if there was suspicion of an infection. The main objective of this talk is to spread awareness to the youth who will be future leaders as they will be the ones responsible for the country's development.
*Check out this media gallery by click here