News & Events
SGS Chinese New Year Celebration 2023
Edited by Rebecca Elicay
Mon, 6 Feb 2023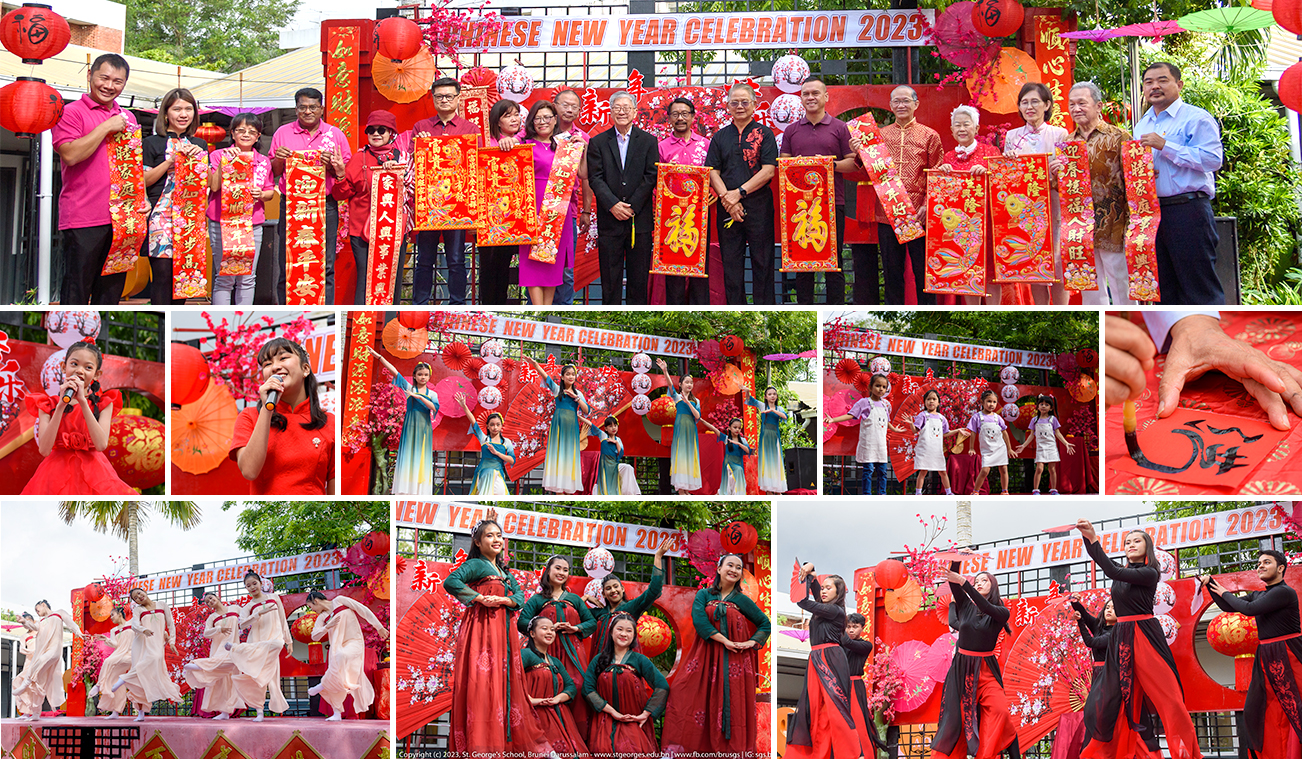 The 28th of January 2023 saw bright smiles and cheers of joy all around as St. George's School held their annual Chinese New Year Celebration after two years of its absence due to the COVID-19 pandemic. Guest of Honour Mr. Ong Tiong Oh, Chairman of the School Board of Governors Mr. Anthony Liew Vun Chiang, Principal Janidi Jingan, Deputy Principal N.M. Mubarak, members of the School Board of Governors and invited guests were in attendance of the event, as well as parents and students.
The event commenced with a Welcoming Dance by the Secondary Students, followed by the opening remarks from Principal Janidi Jingan. In his remarks, the Principal emphasised the importance of the existing cultural diversity amongst all St. Georgians, as it is part of the school's ongoing efforts to promote tolerance, understanding and respect among the students. Mr. Janidi also touched on the history of the Lunar New Year. The ceremony was then officially launched by the Guest of Honour, Mr. Ong Tiong Oh.
The audience was then treated to lively dance performances by students from the kindergarten, primary and secondary sections, as well as song performances by Abigail Calimbas Olayvar and Sarah Ehyam Enopia Ancero of the secondary section. The kindergarten students were also presented with 'ang pao' from the school. The Guest of Honour and invited guests were invited to present the packets to the eager students. The event came to a close with a Chinese Calligraphy Demo by the Society of Chinese Writers, Calligraphers and Artist, followed by a finale dance number by not only students from all sections, but teachers as well. All guests were invited to enjoy some refreshments after the festivities.
True to what the principal had mentioned in his opening remarks, the values of understanding and respect were ever present amongst the students throughout the event, not to mention the overall unified atmosphere shared by guests, teachers and students alike. The school's utmost appreciation and gratitude goes out to all who graced this event.
*Check out this media gallery by click here