News & Events
SGS Goes to Singapore!
Edited by Rebecca Elicay
Mon, 27 Feb 2023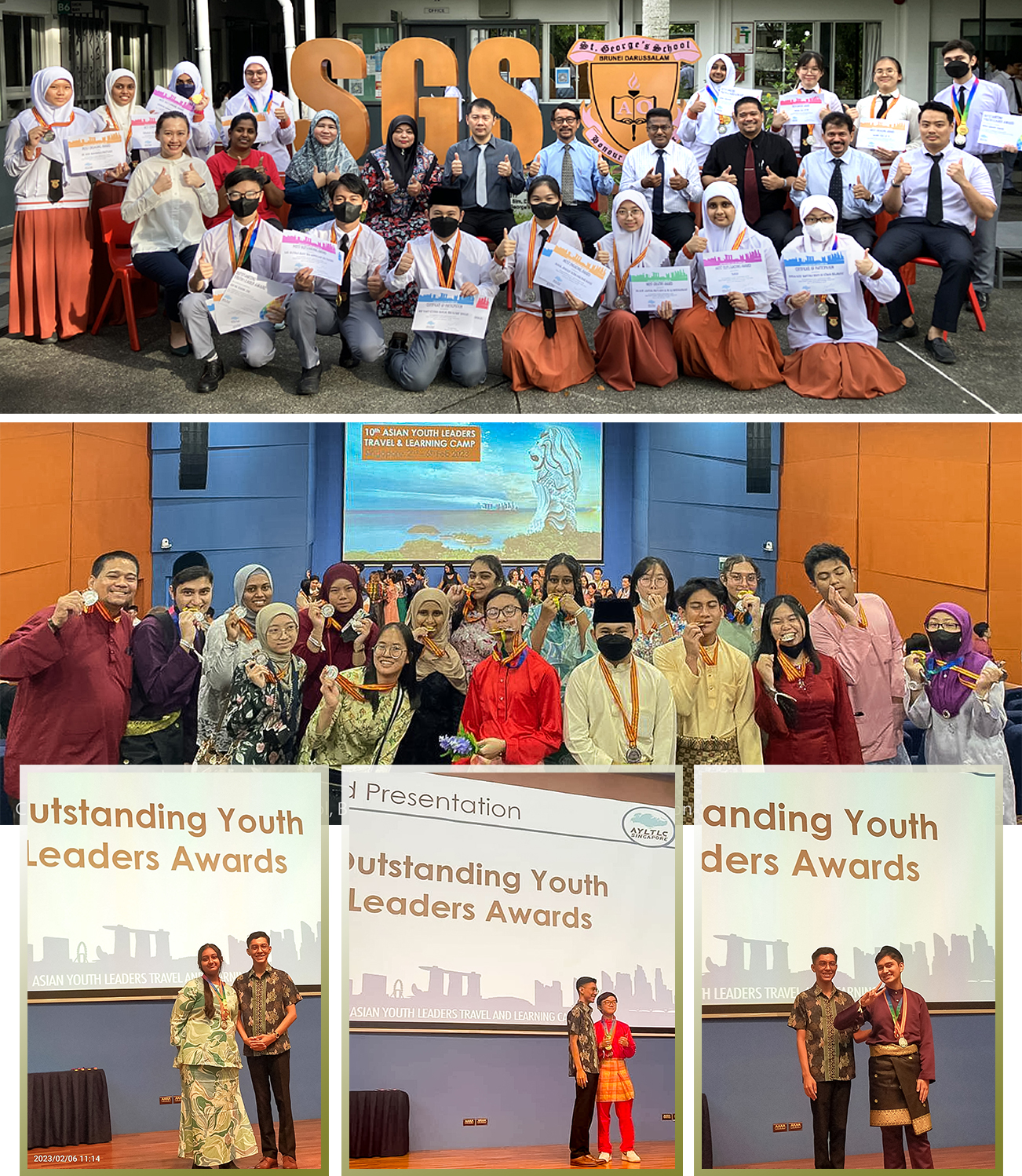 Once again, St. George's School was invited to represent Brunei to attend the Asian Young Leaders Travel And Learning Camp (AYLTLC) held in Singapore from 2nd to 6th February 2023.
St. George's School has annually been sending students to Singapore to take part in this training. This year, our student leaders actively participatedd, create a niche and established an impressive reputation that made the organisers decide to make sure that St. George's School will represent Brunei in this prestigious training held every year.
Leaders from different countries such as China, Hongkong, Taiwan, Japan, India, Africa, South America, Malaysia, Indonesia, Vietnam and the Philippines gathered to share their talents, explore Singapore together, discuss global issues and come up with effective solutions for said issues.
Our St. Georgians, along with other leaders, were provided opportunities to listen to and learn from the speeches of credible speakers, who talked about the development of transportation in Singapore. Another luminary in his own field, Professor Maurizio Peleggi, a History professor, introduced to the participants inspiring leaders from the past and at present, who are worthy of emulating.
Touring around Singapore was one of the highlights of this training, as students were brought to interesting places the country's boasts, such as The Marina Bay Sands, Orchard Road, Marina Barrage, The NE,Water and they were also toured around the National University of Singapore.
The last of the seminar was a test for all the leaders. Students were told to choose a global issue, discuss its effects, and come up with solutions in tackling them. Hence, leaders put their heads together to intelligently discuss their chosen issues. Within the given time, they were able to accomplish the challenge given to them and documented their problems and the solutions. After, the judges reviewed the video presentation where the problems and solutions were discussed. The leaders were then awarded.
It was a proud moment for St. Georgians as their efforts were recognised. The awards received by the leaders from St. George's School were the Most Creative Award for Ayan Ahmed Zakai, Dk Nur Amisha Batrishyia Binti Pg Hj Muhammad, Sofea Ass' Safiyah and Abdul Akid bin Abdul Kadir. The Best Content Award was received by Muhammad Andy Riiyan Haikal bin Haji Muhammad Shukri, Adiba Akhtar, Megan Sim Jie En and Summa Marzia Zaman.
The Most Engaging Award was presented to Jed Ng Xiang Zhe, Mabel Sim Jie Yi, Dk Nur Amanina Bazilah Binti Pg Hassanal Hairuddin, Annie Jenelle S. Barawed and Ayska Zulfee, while the Most Outstanding Presentation Award was received by Md Daffaa Dany, Tania Tofazzal Meah and Arshiya Mohamad Ashhad.
What makes St. George's School even prouder was that out of more than 200 participants, Ayan Ahmed Zakai, Adiba Akhtar and Jed Ng Xiang Zhe received the most prestigious award, that is the Most Outstanding Leader Award! These students showed exemplary performance and extraordinarily participated and led all throughout the training!
Accordingly, on the 13th of February, during the Monday morning assembly, St. George's School took the time to commend and honour our leaders for their remarkable accomplishments, and the glory that they have brought to not only the school, but our country, Brunei Darussalam as well.